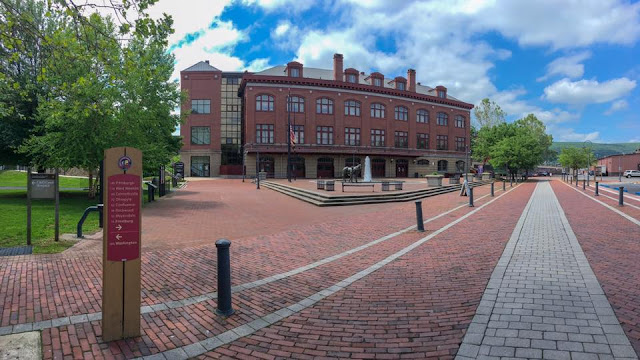 Allegany County Tourism
Visitor Center
13 Canal Street
Cumberland, MD 21502
Main Office
701 Kelly Road
Cumberland, MD 21502
Ashli Workman, Director of Tourism
Phone: 301-876-9595 (Main) 301-777-5132
Email: tourism@alleganygov.org
Facebook: facebook.com/MountainMaryland
Web: www.mdmountainside.com
Allegany County Tourism is the official destination marketing organization for Allegany County, MD.
Canal Place Preservation & Development Authority
13 Canal Street, Room 301
Cumberland, MD 21502
Deirdra "Dee Dee" Ritchie, Executive Director
Hours: Office Monday – Friday, 8 am-4:30 pm
Grounds: Daylight Hours
Phone: 301-724-3655
Email: canalplace.mail@maryland.gov
Facebook: @canalplacemaryland
Web: www.passagesofthepotomac.org
A state authority created to operate and maintain its buildings, retail shops and festival grounds as a heritage attraction and administer the Passages of the Western Potomac Heritage Area which promotes heritage tourism through grants.
Cumberland Economic Development Corporation 
15 S. Centre Street
Matt Miller, Executive Director
Hours: Monday – Friday, 8 am – 4:30 pm
Phone: 301-722-4173
Email: matt.miller@choosecumberland.org
Facebook: facebook.com/choosecumberland 
Web: www.choosecumberland.org 
Non-profit agency performing economic development for the City of Cumberland.
Downtown Development Commission
57 N. Liberty Street
Cumberland, MD 21502
Melinda Kelleher, Executive Director
Hours: Monday – Friday, 8 am – 4 pm
Phone: 301-759-6443
Email: Melinda.Kelleher@cumberlandmd.gov
Facebook: @historicdowntowncumberland
Oversee the promotion of Cumberland's Historic City Center as a vibrant community and tourist destination for shopping, dining, entertainment and the arts.
South Cumberland Business and Civic Association (SCBCA)
1015 Kent Avenue
Terri Hast, Vice President
Phone: 301-759-6517
Fax: 301-759-6432
Email: terri.hast@cumberlandmd.gov
Facebook: South Cumberland Business & Civic Association
We meet monthly to identify challenges and problems within our community. We support change and improvement efforts; help resolve conflicts and learn of resources to make Cumberland a better place to live. We also hold the annual SCBCA 'Marsha L. Thomas' Halloween Parade.