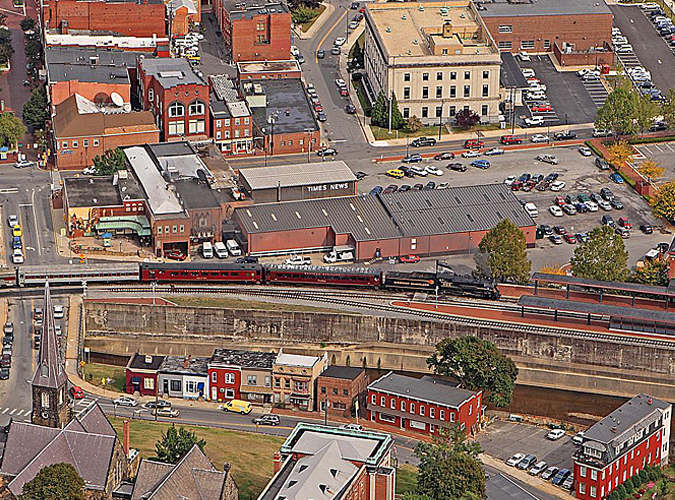 Miscellaneous Services
Whether you need financial, legal, accounting or any other professional services, DCBA membership includes several professional services, as well as, non-profit charity, business organizations, and government offices.
AHEC West
39 Baltimore Street, Suite 201
Richard Kerns, Program Coordinator/Grant Writer
Phone: 301-777-9150
Fax: 301-777-2649
Email: rkerns@ahecwest.org
Web: www.ahecwest.org
Facebook: www.facebook.com/ahecwest
AHEC West's mission is to improve access to and promote quality in healthcare through educational and other partnerships.
Allegany Chamber of Commerce
24 Frederick Street
Stu Czapski, Executive Director
Phone: 301-722-2820
Fax: 301-722-5995
Email: info@alleganycountychamber.com
Web: www.alleganycountychamber.com
The Allegany County Chamber of Commerce is a business association of over 375 members, from sole proprietorships to large corporations and non-profits.Through a full calendar of programs and events, the Chamber supports business and community growth, providing educational and marketing opportunities to its members.
Allegany County Library System
31 Washington Street
John Taube, Executive Director
Hours for Washington Street Library: Monday & Thursday, 1 pm -8 pm; Tuesday, Wednesday, Friday, Saturday, 10 am-5 pm; Closed Sunday
Hours for S. Cumberland Library: Monday, Thursday, Friday, Saturday, 10 am - 5 pm; Tuesday and Wednesday, 1 pm - 8 pm
Phone: 301-777-1200
Fax: 301-777-7299
Email: alleganycountylibrary@alleganycountylibrary.info
Web: www.alleganycountylibrary.info
Facebook: Allegany County Library System
We have something for everyone! Stop by any of our six locations to enjoy our books, movies, and public computers and internet, as well as fun and educational programs and events.

Ali Ghan Shrine
131 Ali Ghan Road, NE
P.O. Box 1416, Cumberland
Bruce Whitaker, Recorder
Phone: 301-722-5970
Fax: 301-777-5276
Email: AliGhanShriners@atlanticbbn.net
Web: www.alighanshriners.com
Facebook: Allegany County Library System
Shriners International continues to support Shriners Hospitals for children as its official philanthropy. Ali Ghan Shrine Club is the perfect elegant venue to hold your event. Available catering service, extravagant lounge/dining room, meeting rooms, Mecca Room, spacious ballroom, beautiful veranda and Sultan Bar. Affordable options, we strive for excellence to make your event memorable. We can help organize catering services with It's Divine Catering.
CBIZ, Inc.
44 Baltimore Street
Rhonda Robinson, Human Resource Director
Phone: 301-782-2461
Fax: 301-784-2436
Email:rhrobinson@cibz.com
Web: www.cbiz.com
CBIZ delivers top-level financial and benefits and insurance services to organizations of all sizes, as well as individual clients, by providing national-caliber expertise combined with highly personalized service delivered at the local level.
City of Cumberland
57 N. Liberty Street
Ray Morriss, Mayor
Phone: 301- 722-2000
Facebook: City of Cumberland, Local Government
County United Way, Inc.
113A Centre Street
Julie McCoy, Executive Director
Phone: 301-722-2700
Toll Free: 1-877-597-2700
Cell: 240-362-8647
Fax: 301-724-1044
Email: info@cuw.org; michele@cuw.org
Web: www.cuw.org 
Facebook: County United Way
Improving lives through building a stronger and healthier community.
Cumberland Economic Development Corporation 
60 Pershing Street
Matt Miller, Executive Director
Phone: 301-722-4173
Email: matt.miller@choosecumberland.org
Facebook: facebook.com/choosecumberland 
Web: www.choosecumberland.org 
The CEDC is an independent 501-C3 non-profit economic development organization focused on the betterment of the economic conditions of the Cumberland area.
Let's Beautify Cumberland! Committee
56 N. Liberty Street
Katie Gattens, Publicity Chair
Phone: 301-707-3065
Email: BeautifyCumberland@gmail.com
Web: www.ci.cumberland.md.us
Facebook: Lets Beautify Cumberland
A volunteer-driven effort, supported by the city of Cumberland, to engage citizens in clean up and beautification efforts in the city.
South Cumberland Business
and Civic Association
1015 Kent Avenue
Terri Hast, Vice President
Phone: 301-759-6517
Fax: 301-759-6432
Email: terri.hast@cumberlandmd.gov
Facebook: South Cumberland Business & Civic Association
We are people who meet regularly to identify challenges and problems in our neighborhoods. We support change and improvement efforts, help resolve conflicts and learn of resources to make South End a better place to live.
ANIMALS
Allegany County Animal Shelter
716 Furnace Street
Tina Rafferty, Executive Director
Phone: 301-777-5930
Email: tina.rafferty@ashelterofhope.com
Web: www.alleganyanimalshelter.com
Facebook: Allegany County Animal Shelter
Allegany County Animal Shelter Lost & Found
The Allegany County Animal Shelter serves as the municipal shelter for Allegany County, Maryland. A shelter of hope, the shelter serves as a safe haven for our homeless cats and dogs.