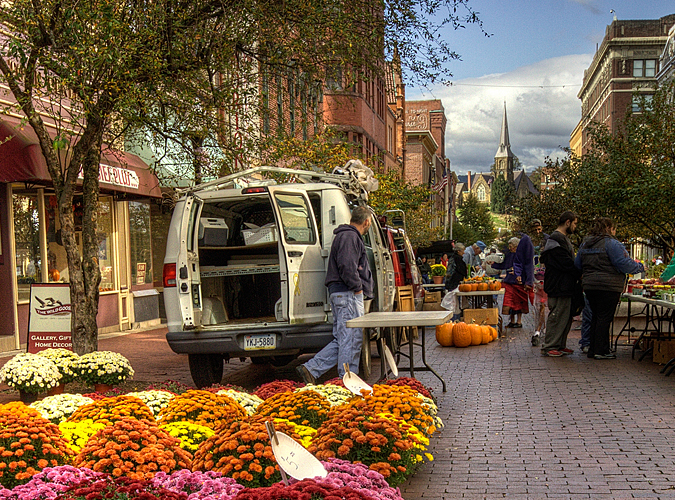 SHOPPING
You'll find charming shops offering a variety of goods and a high standard of customer service in Downtown Cumberland. Our locally owned shops and boutiques are filled with a wonderful variety of products. Downtown Cumberland is a shopping delight for those who love to explore and find the unique and interesting.
Allegany Arts Council/
The Saville Gallery
9 North Centre Street
Julie Westendorf, Executive Director
Hours: Gallery Hours: Tuesday – Saturday, 11 am – 5 pm. Open on Sunday during the summer 11 am – 5 pm. Closed on Monday
Phone: 301-777-2787
Email: art@alleganyarts.org
Web: www.alleganyartscouncil.org
Facebook: The Allegany Arts Council
The Allegany Arts Council is a non-profit organization working to ensure that Allegany County, Maryland is "A Community Alive with the Arts!"
Auntie's Herb Shop
220 N. Mechanic Street
Sherry Ruby, Owner
Hours: Monday – Friday: 10 am – 5 pm
Phone: 240-362-7663
Email: martygordy478@gmail.com
Auntie's Herb Shop is a retail shop selling premium herbs, vitamins, and fish oils. Also, offering foot detox baths, essential oils, and teas.
Azad's of Cumberland at The Qashqai Gallery
37 North Centre Street
Dave Love, Operating Partner
Hours: Thursday & Friday: 11am – 5pm
Saturday: 11am – 3pm • Available by appt all other times.
Phone: 301-723-0818
Mobile: 240-362-7878
Email: azadsofcumberland@gmail.com
Web: www.azadsofcumberland.com
Facebook: Azad's of Cumberland at the Qashqai Gallery
Exclusive Persian Rug Gallery and bazaar; sales, cleaning and repair; appraisals. Over 1400 rugs in stock.
Barkin' Basement
45 Baltimore Street
Becky McClarran, Manager
Hours: Monday, 10 am - 5pm; Thursday & Saturday, 10 am – 5 pm; Friday – 10 am – 6 pm; Sunday, 11 am – 4 pm
Phone: 301-777-0826
Email: info@barkinbasementthriftshop.com
Web: www.barkinbasementthriftshop.com
Facebook: Barkin' Basement
Barkin' Basement Thrift Shop is filled with great items and great prices and supports the homeless animals at the Allegany County Animal Shelter. Barkin' Basement is also home to Off the Leash Boutique offering pet related items. Open Thursday – Sunday.

Beckman Greene Street Pharmacy, Inc.
686 Greene Street
Alice McCullough, Manager
Phone: 301-777-7336
Fax: 301-777-4860
Email: Alice.mcculough@live.com
Web: www.beckmanspharmacy.com
Facebook: Beckman's Greene Street Pharmacy
A family owned since 1982 retail pharmacy that dispenses information as well as medication. We carry a variety of giftware and candles. We also carry DME which includes Diabetic shoes and supplies. 

Cartridges Galore Video Games
68 Pershing Street
Chris Hendershot, Owner
Hours: Monday through Saturday 12-7pm
Phone: 301-876-1022
Email: c.hndershot10@gmail.com
Web: cartridgesgaloregames.com
Facebook: www.facebook.com/cartidgesgalore
We buy/sell/trade all things video games - Game retail shop in Downtown Cumberland.
Craft Table
11 S. Liberty Street
Chris Myers, Owner
Phone: 240-642-8838
Web: www.craft-table.com
Email: craft.table21502@gmail.com
Facebook: Craft Table
We make awesome wreaths! Locally made crafts, wreaths, centerpieces, and gifts. We offer classes and Makerspace for scrapbooking, crafting, and projects.
Fort Cumberland Emporium
55 Baltimore Street
Becky McClarran, Vendor and PR Coordinator
Hours: Monday, Thursday, Friday & Saturday: 10 am – 5 pm
Sunday: 11 am – 4 pm
Phone: 301-722-4500
Email: info@fortcumberlandemporium.com
Web: www.fortcumberlandemporium.com
Facebook: Fort Cumberland Emporium
Located in the heart of Downtown Cumberland, Fort Cumberland is a co-op and offers three floors filled with antiques and collectibles. 
The Glittery Pineapple Boutique 
441 N. Centre Street
Rachel Bauman, Owner
Phone: 240-362-2086
Email: theglitterypineapple1@gmail.com
Web: www.glitterypineapple.com
Facebook: The Glittery Pineapple Boutique
Trendy, affordable women's fashion boutique. We are a Simply Southern Collection authorized retailer, other brands include Judy Blue, KanCan, Ava James, Hemish, Southern Grace and C.C. Brand.
Hobbies Plus
113 Baltimore Street
Christa Puffenbarger, Manager
Hours: Monday - Saturday, 10 am - 6 pm
Phone: 301-777-1187
Email:alleganyretail@yahoo.com
Facebook: www.facebook.com/hobbiesplus2016
Hobbies Plus is an official Traxxas dealer carrying RC truck, parts and more. Also carrying model kits, paints and glues. We have art supplies, trains, track and accessories and more.
Hush Skin Care & Mountain Massage Wellness Spa
53A N. Centre Street
Tiffany Ritter
Hours: Tuesday, 10 am - 5 pm;
Wednesday - Friday, 10 am - 4 pm
Phone: 240-362-7488
Email:hushskincare@gmail.com
Web: www.hushskincarestudio.com
Facebook: Hush Skin Care Studio
A wellness co-op group offering facials, peels, massage and body treatments. We sell Young Living essential oils and high-end skin care products.
Lew Lew Belle Boutique
61 Baltimore Street
Cari J. Cannon, Owner
Hours: Sunday-Monday-Tuesday: Closed
Wednesday-Thursday & Saturday 10-2
Friday: 10-6
Phone: 301-876-4466
Email: caricannon@icloud.com
Web: www.lewlewbelle.com
Facebook: Lew Lew Belle Boutique
Women's fashion boutique - Lew Lew Belle Boutique is an 'On Trend' and affordable women's fashion boutique.
M&M Bake Shop
80 Baltimore Street
Roger Lantz, Owner
Phone: (301) 722-2660
Open Monday - Saturday 5:30 am - 12 noon
M&M Bake Shop is a family-owned bakery established in 1966 by Mary Lantz and Merl . ALL Donuts & Bakery Goods are made Fresh Daily! M&M Bake Shop stocks the storefront to sell EVERYTHING out. Placing an order ahead is recommended to ensure your availability
PharmaCare West
64 Greene Street
Cory Stahlman - Pharmacy Manager
Jennifer Hare – Marketing & Public Relations Director
Hours: Monday – Friday, 9 am – 6 pm; Saturday, 9 am – 1 pm. (both store and drive-up)
Phone: 301-724-1183
Fax: 301-724-5212
Email: jhare@3ipc.com or cstahlman@3ipc.com
Web: www.pharmacarenetwork.com 
Facebook: www.facebook.com/thepharmacarenetwork
Retail Pharmacy (and drive-up window) with custom compounding (humans and animals) plus greeting cards, and Bedford Candies; full-service U.S. Post Office (stamps and shipping).
Reptilian Arts 
205 N Mechanic Street Cumberland MD 21502
Phone: 301-892-5405
@reptilianarts on all socials
Rohman Taylor Owner
Reptilian Arts is a pet shop that specializes in reptiles and reptile supplies. We ship nationwide and are one of the largest producers of reptiles and feeder insects for the pet industry. We have an online store and a brick and mortar shop located at 205 N Mechanic Street, Cumberland MD. We are also expanding into all things pet related, including dog and cat supplies.
Ristorante Ottaviani and Italian Market
25 N. Centre Street
Adrienne Ottaviani, Owner Tony Ottaviani, Owner/Manager
Hours: Sunday – Saturday, 5 pm to close
Phone: 301-722-0052
Email: info@ottavianis.com
Web: www.ottavianis.com
Facebook: Ristorante Ottaviani
New York Italian in the heart of downtown Cumberland! Enjoy fine old world Italian cuisine served in a casually elegant atmosphere. Italian, steaks, and seafood are our specialties. Family friendly, full bar, large group and private dining, outdoor patio. Come, enjoy a meal with our family at Ristorante Ottaviani. Buon appetito. Now selling beer and wine to go, pasta, our own Ottaviani sauces, meats and cheeses, olives and olive oil, Gluten free pasta and bread at the Ristorate Ottaviaini Italian Market.
The Vapor Room
57 N. Centre Street
Jessica Grapes, Owner
Hours: Monday – Saturday, 10 am – 6 pm
Phone: 301-876-9500
Email: josh@thevaporroom.net
Web: www.thevaporroom.net
Facebook: facebook.com/thevaporroom.net
The Vapor Room, now celebrating 10 years, is an independent electronic cigarette store. TVR is the 1st full-service e-cigarette stop in Maryland!
Vietnam Veterans of America, Chapter 172
17 N. Liberty Street
Barbara Smith, Office Manager
Hours: Monday – Friday, 9 am – 4 pm
Phone: 301-777-7001
Fax: 301-777-7007
Web: www.vietnamreflections.com
Facebook: www.facebook.com/VietnamReflections
Email: vva172@atlanticbbn.net
Small retail store specializing in military shirts, hats, tees, patches and decals. We also sell USA glads and help Vietnam veterans with any veteran concerns.
Western Maryland Music Center, LLC
115 Baltimore Street
Larry Jackson, Owner
Hours: Monday – Friday, 12 noon – 8 pm;
Saturday, 10 am - 8 pm
Phone: 301-724-1234
Fax: 301-777-1171
Web: www.westernmarylandmusic.com
Email:wmdmusic@ymail.com
Facebook: facebook.com/westernmarylandmusiccenter
The area's premier full service music store, offering a full line of merchandise, repairs, and lessons.