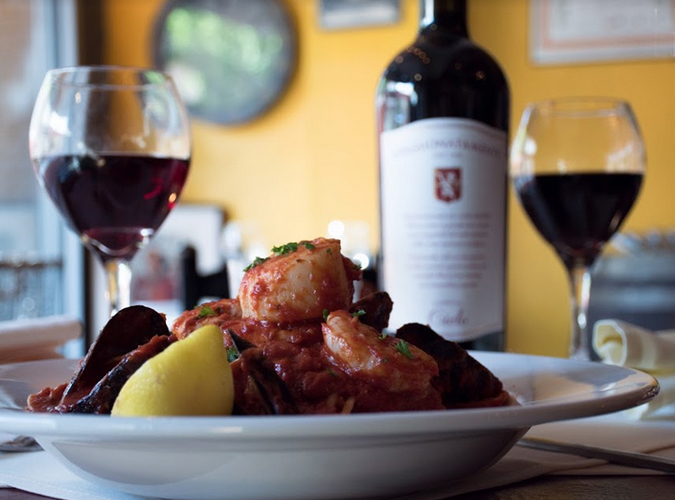 Wine & Dine
Whether it's a great cappuccino or a full-course meal or something in-between, you won't be disappointed by the selection of great places to wine, dine and relax. 
Basecamp Coffee Company
108 Greene Street
Hayden Ort-Ulm, Owner
Hours: Open 7 days a week, 7 am - 3:30 pm (some holidays excluded)
Email: coffeebasecamp@gmail.com
Web: www.basecampcoffees.com
Facebook: www.facebook.com/coffeebasecamp
Local coffee microroaster and cafe. Specialty coffees by the cup or bag, homemade bakery items, experienced Baristas, free wifi with table seating. ADA accessible. 
Cafe Mark
37 Baltimore Street
Jody Malamis, Owner
Hours: Monday - Friday, 7 am - 2 pm; Saturday - Sunday, 8 am - 2 pm
Phone: 301-759-0276
Email: jodymalamis@gmail.com
Web: cafe-mark.com
Facebook: Cafe Mark
A quaint coffee cafe located in beautiful downtown Cumberland. Offering a wide variety of coffee and tea options, smoothies, baked goods, breakfast, lunch and catering. Free wifi and outdoor seating. 

Charis Winery & Distillery
16 Howard Street
Chuck Park, President
Hours: Sunday, 2 – 6 pm; Monday, noon – 5 pm; Tuesday – Thursday, noon – 6 pm; Friday, noon – 8 pm; Saturday – 11 am – 9 pm
Phone: 240-581-3875
Email: chuck@chariswinery.com
Web: www.chariswinery.com
Facebook: www.facebook.com/chariswineryinc
Local producer of wines & spirits, tasting room.
City Lights American Grill
59 Baltimore Street
Bill Shaffer, Owner
Hours:  Monday, 11 am - 3 pm; Tuesday - Saturday, 11 am - 8 pm
Phone: 301-722-9800
Email: citylightsamericangrill@gmail.com
Web: citylightsamericangrill.net
Facebook: City Lights An American Grill and Bar
Locally owned for 23 years, offering fresh salads, Angus Brand Beef burgers, steaks, seafood, pasta, and in-house-made desserts

Jin's Asian Cuisine
36 Queen City Drive
Phone: 301-777-5555
Manager Contact: 301-338-0687
Web: www.jinsasiancuisine.com
Facebook: https://www.facebook.com/Jins-Asian-Cuisine-679123028783165
Chinese, Thai, & Japanese Restaurant * Dine-In * Take-Out * We Deliver!
JJ's & Sons Pizzeria
158 N. Centre Street
Todd Mechem, Co-owner
Hours: 11 am – 9 pm, daily
Phone: 301-777-3994
Email: jj@jjsandsons.com
Web: www.jjsandsons.com
Facebook: facebook.com/jjsandsons/
JJ's has been a Cumberland tradition since 1981. Not only are their wings and pizza town favorites, but the cheesesteak recipe goes back to 1965 and JJ's fans buy their famous bleu cheese dressing by the pint. Open for Takeout and Delivery from 11-9 every day.
Lost Mountain BBQ Cumberland
49 N. Centre Street
Contact: Joshua Arnold, Owner
Phone: 240-362-7574
Email: doughwarrior2000@gmail.com
Web: lostmountainbbqco.com
Facebook: Lost Mountain BBQ Company - Cumberland
Carryout Only BBQ restaurant with a variety of meats, sides, and sauces combined in ways that will be sure to please.
McDonald's Restaurant
32 Queen City Drive
Lori Bennett, Office Assistant
Phone: 301-766-4557
Fax: 301-766-4553
Email:mark.bittner@us.stores.mcd.com
Since 1954, McDonald's has been dedicated to serving quality food and quick service at an affordable price for our customers. Visit your nearby McDonald's and choose from a large menu of favorites, including McCafé® drinks, All Day Breakfast, sandwiches from our Signature Crafted® Recipes menu, delicious burgers and more!
Mezzos
114 S. Centre Street
Contact: Dan Bowser, Owner
Hours: Monday – Thursday, noon – 12 midnight; Friday & Saturday, 11 am – 2 pm; Sunday, 12 noon – 12 midnight
Phone: 301-777-7750
Email: dantheman@mezzosbar.com
Web: www.mezzosbar.com
Facebook: Mezzos Cumberland
The Place to Meet!
Queen City Creamery
108 Harrison Street
Rhiannon Brown, Owner
Phone: 301-777-0011
Fax: 301-777-8828
Email: info@queencitycreamery.com
Facebook: Queen City Creamery
We serve the best homemade frozen custard around! We offer the highest-quality deli sandwiches, soups, coffees and bakery items, as well. Great customer service!
Ristorante Ottaviani and Italian Market
25 N. Centre Street
Tony Ottaviani, Managing Partner
Hours: Tuesday – Saturday: 5 pm to close
Phone: 301-722-0052
Email: info@ottavianis.com
Web: www.ottavianis.com
Facebook: Ristorante Ottaviani
Full-Service Restaurant and Bar - Outdoor Seating - Private Parties - Hospitality - Family Owned and Operated - Family Friendly - Steaks, Chops, Seafood, Pasta
Uncle Jack's Pizzeria & Pub
20 South Mechanic Street
Brian Dillon, Owner
Phone: 301-724-1110
Facebook: www.facebook.com/unclejackspub
Established in 2010, Uncle Jack's features 12 beers on tap and delicious food in a relaxing atmosphere. Daily specials and Entertainment on the weekend.
Wendy's
325 S. Centre Street
Kathy Jewell, District Manager
Hours: 6am - 12am
Phone: 540-662-8910 (office)
301-759-3414 (store)
Fax: 540-662-7612
Email:kjewell@rlfoods.com
setretha@rlfoods.com
Web:https://www.restaurantji.com/md/cumberland/wendys-/
Who's hungry? Fresh never frozen! Quality is our recipe. Burgers, chicken, fresh made salads, fries, Frosty's.